Get Interested!
Welcome to Dunn Entertainment Home page. Home of Raw Ep, Tommy Pocketz, Willie Arsen, Yung Ike, Jax Diamondz, Frank Walletz, Manic Mach, The Regime, Raw Radio, Raw TV, and P.O Ductions.
All Work No play the mix tape coming soon.


Jax Diamondz solo album coming soon with production from P.O Ductions including the Hit single "Die".Produce By Tommy Pocketz Requset "Die" on your local radio station.
P.O Ductions mix tape featuring all tracks produced by Tommy Pocketz for P.O Ductions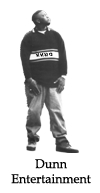 New mix-tape from Dunn Entertainment. Fire mix-tape volume 3. Includes all the Dunn Entertainment artist including Tommy Pocketz and Jax Diamondz. Tent City Includes 27 tracks being ripped and taken over. Grind season has returned and its in Welcome to Tent City.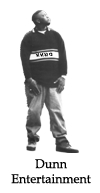 Dunn Entertainment 2005